Golf season in New England is a lot different from the golf seasons most individuals have down South! Up here in Boston, the common golfers typically try and get on the course by May, late April if we're lucky, and the season will typically wrap up at the end of September! With such a short window to play the game we love, it's important that we're spending at least 3-5 of our rounds at courses that are well kept and offer a great golfing experience! Below are the top 5 golf courses in New England, that you must play!
1. Granite Links Golf Club, Quincy MA-
Just 30 minutes South of Boston, Granite Links Golf Club at Quarry Hills produces some of the best views of the Boston skyline. The course is a links style course and includes a lot of blind shots! The course is well maintained and has every style of hole for the average golfer. The Tavern at Quarry Hills is the perfect 19th hole, typically crowded with locals, the Tavern has a great selection of food and drink. If you're in Boston on business or vacation, don't forget to play 18 at Granite Links!
2. Atkinson Country Club, Atkinson NH-
A personal favorite of mine, Atikinson Country Club is a top-rated golf course in New Hampshire and open to the public! This course has been the home of the NH Amateur Open and has produced some great golfers that've made this their home course. The course can be tough to navigate as it includes plenty of fairway bunkers as well as many bodies of water throughout the course. Atkinson is also a great destination for weddings and private events as with it's beautiful views and clubhouse.
3. Red Tail Golf Club, Devens MA-
Named after the majestic red-tailed hawks that soar serenely overhead, the 7,000 yard, par 72 course is crafted from a site of great natural beauty. It flows over rolling wooded hills and meanders among numerous streams and ponds. The terrain varies from classic New England landscapes of maples, birches, oaks and pines to tall grasses and sands reminiscent of coastal courses.
4. Green Valley Country Club, Portsmouth RI-
Another beautiful public golf course, located in Portsmouth, RI, this semi-private club is set up for championship golf! Green Valley can certainly be a challenging golf courses with narrow fairways and broad bunkers! Another course that takes pride in their maintenence. After your round, head about 25 minutes south to Newport for some fine dining!
5. Merrimack Valley Golf Course, Metheun MA-
A beautifully redesigned Donald Ross course located just off of route 93, in Metheun, Merrimack Valley Golf Course is a great course to play on a beautiful summer day. The first hole looks down over the full course and can be intimidating with the huge body of water straight ahead. Another public course that will give you every shot you're looking to make, it's impossible to have a bad day on this course! When rounding out the front 9, you will face a long par-5 8th hole that leads you uphill, followed by a short par-3 on the 9th. Alike the courses listed above, Merrimack Valley has a new clubhouse and restaurant with outdoor dining looking over the golf course!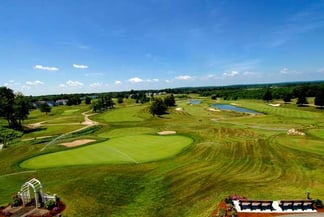 These top golf courses are sure to provide a great day on the course! Interested in making sure you show up to these golf courses prepared? First read this! Or click the link below!